In this fun class we will be doing an pieced hassock/stool topper. Nancy has a few variations of the completed top so the final outcome will be determined by each student's imagination. These neat little hassocks come in handy around the house, or just look cute as an accessory. You won't stop at one.

In this class you will learn how to rotary cut, assemble and make a cute cover for a hassock from a pattern, cover the hassock and have a great time. This class is mostly kitted.

***Enrollment cutoff is Saturday, October 7, 2023***
-6 students per class, 2 Minimum
-Wednesday, October. 11, 2023
-One session, 10:15-2:15
-$55 per student, Class is mostly kitted!
Students ALWAYS receive a discount on supplies at Sew And Sews Place!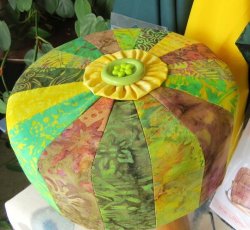 | | |
| --- | --- |
| Skill Level: | Beginner |
| Skill Details: | SKILL LEVELS- Skill levels are the minimum required. If you are unsure of your skill level, please inquire at the shop and we will help you to determine which class is appropriate for you. Beginner: Little or no sewing experience Advanced Beginner: Must be familiar with your sewing machine, general sewing terms and comfortable reading and interpreting a garment pattern. Quilting: Must be able to follow basic quilt instructions, operate your sewing machine independently and have rotary cutting skills. Intermediate: Must be knowledgeable of your sewing machine, general sewing terms, comfortable reading a pattern, and have an understanding of basic garment or quilt construction. Advanced: Must be able to read patterns and construct garments or quilts from beginning to end without assistance. Classes are for enhancing current skills and learning new skills. |
| Materials Included: | Class is partially kitted, Supply list provided upon enrollment, Rental sewing machines available upon request for $5 |
| Instructor: | Nancy Palmer |
| Instructor Bio: | See About Page |